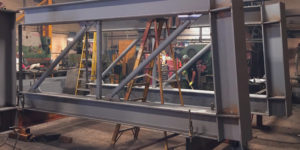 If you are actively looking for a good metal fabrication company, there are some key factors you need to consider. Your projects should be done by a company that understands your vision, parameters, and needs. Just because a shop is cheaper than another doesn't always make it the best option. Let's see what you should be looking for in a good metal fabrication company for your business.
Do They Have Experience ?
This may seem like an obvious qualification to look for, but it's very easy to overlook when you are considering other factors, such as price. Ensuring any metal fabrication company you intend to hire has the necessary experience to handle your needs is a must.
Those fabrication companies that have been around for a long time are typically the best options. Asking what types of projects a company has previously handled is another great idea. This will allow you to see the variety of fabrication that the company can perform.
What Size Workforce Does the Fabrication Company Have ?
If you are relying on a metal fabrication company for all your specialized needs, the quantity of products you want to be produced will rely heavily on the workforce. It's important to ensure that a fabrication company can handle the workload that your company needs to purchase.
The size of a fabrication company's workforce should be a big factor in your decision. A workforce that is too small may not be able to successfully handle the projects you need to be completed within a timely manner. In addition, seeing how skilled the individuals that comprise the workforce are is another thing to consider.
What Equipment Does the Company Have Available ?
Typically smaller fabrication companies don't have access to cutting edge technology. Those bigger companies who have invested money in the business do. When it comes to having improved efficiency and great quantity production, the larger company is going to be able to outshine the smaller companies more times than not.
What Is Their Location and Shipping Availability ?
Understanding what locations a business has and their shipping availability to your own project areas is a must for a good working relationship. Just because the metal fabricator down the street is closer, doesn't mean that it's your only option. Many metal fabrication companies, like Naimor Inc, will ship completed products across the company to their clients.
What Are Their Prices ?
Pricing is a big determining factor when it comes to choosing the right metal fabrication company. The base price for your project and the shipping, if necessary, are two things you want to consider in the overall price evaluation for each potential company that you plan on hiring. Taking into account the expertise and finished products you get for the price offered is also a must.
As you can see, there are many different factors that should go into your decision of choosing the best metal fabrication company to meet your business' needs.