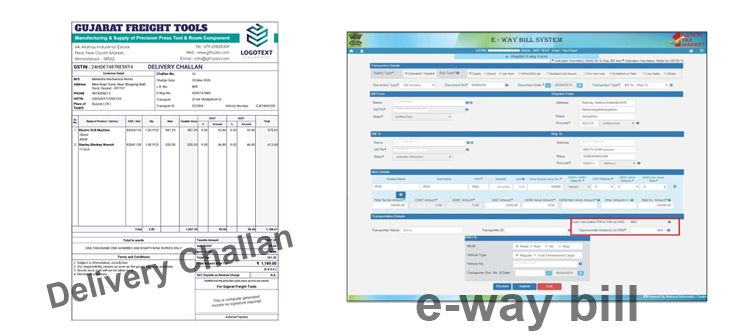 Every trader or dealer under the recently applied GST rule must have heard of delivery challan and e-way bill. To be clear about these concepts is important if your business includes the transportation of goods.
There occur certain instances where the transportation of goods takes place without any actual sale being made. In such a situation, a delivery challan comes to play. Since the tax invoice is not made for such transit, suppliers have to make a delivery challan. It is also known by the name of delivery slip or a dispatch challan. The delivery challan format is so made that it includes information pertaining to the nature of goods being transported, the name of the supplier, GSTIN and other such important information. To learn more about the delivery challan format click the link given below
https://mybillbook.in/blog/delivery-challan-meaning-and-format/
E-way bill is also a permit that is required for facilitating the transportation of goods from one state to another. As the name suggests, it is an electronic process done through a digital portal. The important thing to note here is that e-way bills are generated only when the amount of goods to be transported exceeds the stipulated amount of Rs. 50,000. In such a scenario, having a delivery challan alone will not help. The e-way bill has become effective since 1st April 2018.
Difference Between Delivery Challan and E-way Bill
It is not just that the delivery challan format differs from the e-way bill format. There are other significant differences as well. Some of the essential ones are listed below:
E-way challan is issued by the GST portal through the online process. The transporter gets an e-way challan issued in his name as proof for the transportation of the said goods. The GST department registers the information provided by the supplier online
…
Read More