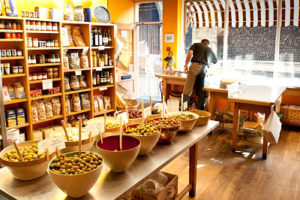 The former landlord of the popular Delaney's pub, Aidan Mahon, has launched a brand new deli in the centre of Norwich. Deli Nourish is an independent business located within the Budgens store on the Prince of Wales Road.
The Concept
Mr Mahon, 45, started the deli in order to fight back against the proliferation of processed foods and to showcase local ingredients, which are used to make dishes such as sandwiches, jacket potatoes, wraps, protein bowls and salads.
Many traditional lunch options, such as pre-packed sandwiches and wraps, tend to high in fats, sugar and salt and low on flavour. The idea behind Deli Nourish is to provide a better-tasting yet healthier lunch at an affordable price. What's more, because the deli uses locally sourced produce wherever possible, its environmental impact is reduced and the local economy receives a much needed boost.
The Menu
The menu includes a wide range of offerings such as home-made dressings and slaws, greens, ginger and chilli tofus and honey and mustard brisket of beef. Everything is freshly prepared each day, and meals are made to order. As well as ordering your lunch or dinner, you can also purchase the local produce itself to use at home later.
Special Offer
Since Deli Nourish opened, business has been brisk, and as a thank-you to his loyal customers Aidan is offering a 10 per cent discount to any customers who buy a copy of the Norwich Evening News or Eastern Daily Press from the store and show it to staff at the serve over food display counter. This deal will initially run from now until the end of October 2017 but may run again next year.
To get an idea of the kind of high-quality establishment that Deli Nourish is, see https://www.fridgefreezerdirect.co.uk/serve-over-counters, which will show the sort of modern equipment they are using.
If you are unsure where in Norwich Deli Nourish is located, see http://norwich.streetmapof.co.uk/prince-of-wales-road/.
Growing Trend
Independent delicatessens such a Deli Nourish are popping up all over UK as the trend for local natural food continues to gain momentum. Serving hot and cold food for breakfast, lunch and dinner and ideally situated in a busy area of the city, Deli Nourish looks like it will be a great success and a welcome addition to the high street.