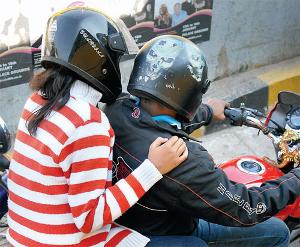 All motorists while driving their two-wheeler on the roads of India are expected to wear helmet. This is a traffic rule laid by law.
Not only the rule came for wearing the helmet when on a two-wheeler, but also there were many other traffic rules that were formed and listed as the Indian Road rules under the 'Rules of the Road Regulation' way back in July 1989. These are followed till date very strictly. Any violation is treated as a serious offence and the concerned authority or traffic police has the authority to levy the fine on the defaulters as per the Motor Vehicle Act. These rules and guidelines were applied to both the Indian drivers of two-wheelers and four wheelers. However, helmet rule is only applicable in case of two wheelers. Check out this site to know more about traffic rules and violations.
Not wearing helmet? : The consequences
Wearing a helmet is must for all the two-wheeler drivers. This traffic rule is compulsory to be followed. Penalty payment and legal hassles are some of the consequences of breaking this rule. The one who is found driving without a helmet is fined with a penalty of Rs. 100/- under the section 129 r/w177 of the Motor Vehicle Act, 1989. This figure of was increased to Rs. 500 by Transport ministry. Later, after the Motor Vehicle Amendment Bill, which was approved by the Union Cabinet, the fine for not wearing Helmet was increased to Rs. 1000.
However, the rule has a few exceptions too. If you have some medical problem and wearing the helmet interferes with your health and results into disturbance of your well-being, then you may be given an exception. For example, if your feel a heaviness in your head or get a headache after wearing a helmet or you have a problem of Migraine, you can get an exception and wearing helmet will not be compulsory in your case. But in such scenario, it will be a must to carry the doctor's prescription or the permit in writing with a stamp given by your doctor every time you drive on the road. If you are being stopped by a cop or a traffic police for not wearing the helmet, you must show that document to the person and move ahead.
Why wearing helmet is part of the traffic rule?
Well, this rule is a part of traffic law for your own benefit. Have you heard about head injury and its severity? If you fall and break your arms, legs, shoulder, or back, you can get it fixed and get healed in some months. But if you get a head injury, then it can be fatal for you. Head injury is one of the most common cause of death in two wheeler accidents. This is why helmet is a must for protection. If your head is protected, you will be much safer after an accident.
The state transport minister of Maharashtra Diwaker Raote has suggested a unique way to increase the use of helmet last year in 2016. He suggested, "No helmet, no fuel" rule which he was not able to put it to action due to a stir from the petrol and diesel retailers. This was a wonderful move which would have surely inculcated the habit of wearing a Helmet in motorists. But due to the threat from Federation of All Maharashtra Petrol Dealers Association (FAMPEDA) for a State wide shut-down of more than 4,500 petrol pumps, the idea could not be implemented.