An enthralling hill station located in the Idukki district of Kerala is Munnar. The name Munnar is derived from the 3 rivers that merge in this place. The low flying clouds, rich green slopes of tea and spice plantations, sparkling blues dotting the landscapes, mountain breeze filled with the aroma of tea, no one can deny that because of Munnar, Kerala got its name 'Gods own country.' Because of all these wonderful places to visit Munnar is known as the 'Kashmir of South India.'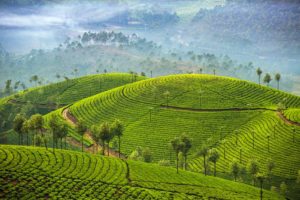 Munnar can be visited throughout the year but it is preferred to visit this enchanting place is from December to February, especially for honeymooners and adventure enthusiasts. Munnar has many hotels and resorts for the tourists to stay. If you book the hotel well in advance, you can get Munnar hotel price at less, this will save your travel budget. There are various attractions which we don't get in any other place that is to be visited when in Munnar to have a soul-filling holiday.
Elephant Lake: located at a distance of 22 kms from Munnar this is a serene lake surrounded by lush green vast tea plantations in every direction your eye can see. You can do trekking and walk around in the tea plantations along with family and friends. As the name suggests tourists visit this lake to see a lot of elephants having bath and drinking water in this lake. You and your kids can take elephant rides nearby this lake.
Chithirapuram: you can find cottages, bungalows, playgrounds, & lush green dunes of spice & tea plantations spread across the sphere. Trekking in these grounds gives you an experience of Munnar and takes you through its old-worldly charm.
Top Station: want to have a full package of fun, adventure and entertainment then do …
Read More