An enthralling hill station located in the Idukki district of Kerala is Munnar. The name Munnar is derived from the 3 rivers that merge in this place. The low flying clouds, rich green slopes of tea and spice plantations, sparkling blues dotting the landscapes, mountain breeze filled with the aroma of tea, no one can deny that because of Munnar, Kerala got its name 'Gods own country.' Because of all these wonderful places to visit Munnar is known as the 'Kashmir of South India.'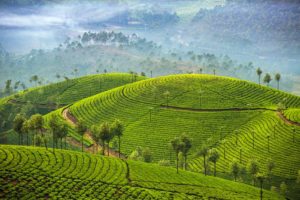 Munnar can be visited throughout the year but it is preferred to visit this enchanting place is from December to February, especially for honeymooners and adventure enthusiasts. Munnar has many hotels and resorts for the tourists to stay. If you book the hotel well in advance, you can get Munnar hotel price at less, this will save your travel budget. There are various attractions which we don't get in any other place that is to be visited when in Munnar to have a soul-filling holiday.
Elephant Lake: located at a distance of 22 kms from Munnar this is a serene lake surrounded by lush green vast tea plantations in every direction your eye can see. You can do trekking and walk around in the tea plantations along with family and friends. As the name suggests tourists visit this lake to see a lot of elephants having bath and drinking water in this lake. You and your kids can take elephant rides nearby this lake.
Chithirapuram: you can find cottages, bungalows, playgrounds, & lush green dunes of spice & tea plantations spread across the sphere. Trekking in these grounds gives you an experience of Munnar and takes you through its old-worldly charm.
Top Station: want to have a full package of fun, adventure and entertainment then do not miss to visit Top Station. This Top Station, is located on a massive height at Kundala Valley, this place offers mesmerizing views of the town Munnar. You will find the rare and beautiful Neelakurinji flowers in these mountains of Western Ghats. This place is perfect for camping, trekking, photography, visiting the Neelakurinji Sanctuary. As this place is located on the Kerala-Tamilnadu border, you can have eye-catching views of the Western Ghats in Kerala and Valley of Theni district of Tamilnadu on another side.
Tata Tea Museum: in simple words, Tata Tea Museum is the temple for all tea lovers. Here you can try your hand at tea plucking and also taste various exquisite varieties of tea. This museum showcases the origin and evolution of these century-old tea plantations in Munnar. This museum pays tribute to the best tea estates in the world.
Devikulam: located at 1800 m above the sea level this town of Devikulam is a sanctuary of divinity and spirituality along with the mind-blowing views of Sita Devi Lake and Pallivasal falls is simply heaven on earth for the pilgrims and temple-goers. It is believed that the water in the Sita Devi Lake is holy and a bath in cleanses and rejuvenate your body and soul.  Visit this divine place to visit Mariamman Temple, Ganesha Temple, and Ayyanar Temple. Apart from the temples, you can have adventure and fun activities like rock climbing, trekking, picnic, fishing, hiking, and photography.
Chinnakanal: is a small town away from 20 kms which is untouched and well-preserved part of Mother Nature. The Chinnakanal waterfall falling from a height of 800 m is absolutely enchanting and carries a light fragrance of tea leaves which you carry for a long time. Explore the beauty of these undiscovered falls in your trekking around the falls. You will get wonderful and natural photographs in this mystical place.
Munnar hotel price drops well if you book your stay in advance. So, visit the magical Munnar and don't leave before visiting the attractions mentioned above.